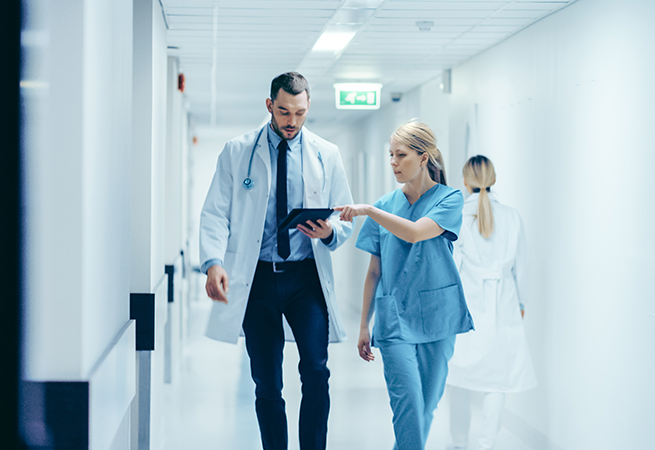 The New Hampshire Hospital Association (NHHA) is proud to offer the NHHA Endorsed Business Partner (EBP) program through Health Shared Services Inc. (HSSI). A for-profit entity owned by NHHA, HSSI was created to bring NHHA member hospitals and their affiliates statewide with access to a wide range of high-quality products and services at reduced costs.
Through HSSI, NHHA brings greater value to its membership by offering an Endorsed Business Partner (EBP) program that takes advantage of the Association's collective membership strength.  Our focus is to drive value through connecting health care organizations in New Hampshire with a wide array of highly respected companies who provide service offerings that are competitively priced and delivered with exceptional customer service.
Through a deliberate market assessment process, the NHHA EBP program matches issue-specific member needs with products and services and identifies innovative organizations that are committed to fostering operational excellence by providing value-added services to the health care facilities in New Hampshire.  
The business partners selected are expected to meet high-quality standards and offer products or services that help health care facilities control costs, recover revenue, reduce operating and capital expenses, improve management and quality, increase productivity, develop staff resources and apply new strategies. NHHA's EBP partners undergo a rigorous assessment and analysis process to ensure they meet established quality, financial and other service delivery standards. 
The hallmark of the New Hampshire Hospital Association Endorsed Business Partner program centers on building strong and lasting relationships that deliver outstanding value, special benefits and discounts, and overall satisfaction to member hospitals.
Become an Endorsed Partner
The New Hampshire Hospital Association is continuously searching for companies that offer high quality products and services to join as endorsed business partners. Companies must meet our exclusive criteria and complete a thorough selection process to become endorsed.
Download the Endorsed Business Partner Program fact sheet
Partner Benefits
Company listing in NHHA Annual Report (distributed annually to Hospital CEOs)

Opportunities to promote EBP products or services to key decision makers for hospitals and health systems in New Hampshire

Company landing page on the NHHA website under Endorsed Business Partner program section, with company name, logo, description and a link to EBP's website

Company profile featured in newsletter once a year
Complimentary Gold Corporate Membership
Featured in Corporate Member Spotlight on NHHA website home page

Social media recognition for sponsorship on NHHA platforms

Partner Spotlight in NHHA Daily Digest e-newsletter as Endorsed Partner

Opportunity to sponsor NHHA educational events held for hospital members

Gold Sponsor of NHHA / FHC Annual Meeting

Complimentary Registration for up to five company representatives

Logo placement on the NHHA / FHC Annual Meeting event page

Logo placement in NHHA / FHC Annual Meeting program

Recognition on signage at NHHA / FHC Annual Meeting

Exclusive invitation to attend Private Reception with Hospital Chief Executive Officers

Opportunity for three company representatives to participate in the Annual Meeting Golf Tournament alongside hospital executives
Access to the Association's expertise, market intelligence and relationships
Special promotional e-mail blasts to NHHA membership introducing new business partner, new products and/or new service lines

Personal email, phone or face to face introductions into hospital decision makers in New Hampshire

Access to the NHHA Membership Directory

Use of NHHA (endorsed business partner) logo for marketing purposes in New Hampshire

Endorsement letter signed by the President of the New Hampshire Hospital Association
If you are interested in learning more about the Endorsed Business Partner program or in becoming endorsed by the New Hampshire Hospital Association, please contact Brian Stevens at (512) 813-7667 or [email protected].