A Message From Our President
We are thrilled to share with you the new website of the New Hampshire Hospital Association at nhha.org! After months of hard work and determination, we are officially launching our new digital platform that modernizes and enhances communication with NHHA members, state and federal policy makers, partners and the general public. This new site provides a much more comprehensive look into the advocacy efforts of the Association while creating a more informative platform for telling the impact and stories of New Hampshire hospitals.
This website was designed to offer a clean, modern design, easy navigation and helpful resources to be utilized so that as you engage in state and federal advocacy efforts, you have the best information to be successful. You will find a whole new information architecture behind the content sections of the site, and a number of interactive features for knowledge-sharing and collaboration. Looking ahead, as we consider all of the learnings from the pandemic and the new commitments we must make in these uncertain times, as the leading voice for hospitals statewide, we are excited to continue enhancing our digital communications to keep all of us connected and informed.
As this site is new, we ask for your patience as we spend a few more weeks migrating some critical content from our old website, making new updates to important upcoming activities, and fixing a few persistent bugs with our developers and design team.
In the meantime, we invite you to experience the new site and engage with its content, features and benefits. Connected, we are stronger.
Our Impact:
$594.2 Million
Amount New Hampshire hospitals and health systems invested in their communities in total community benefits provided in 2020.*
Read more about the positive impact of NH hospitals and health systems on their communities.
Area of Focus
Advocacy
We work collaboratively with our members, state and federal officials and other stakeholders to develop and influence public policy, and ensure the legal and regulatory framework change is conducive to support effective health care policy and services.
Health Care Issues & Topics
Massive amounts of information, rules, and regulations impact how New Hampshire hospitals and health systems do business and take care of patients. We compile and share information for members on critical issues, trends, and best practices.
Quality & Patient Safety
New Hampshire hospitals work every day to provide safe and better care to the patients they treat. We support our members to prevent and reduce risks, errors, and harm that occur to patients during provision of health care and believe that patient safety is fundamental to delivering quality essential health services.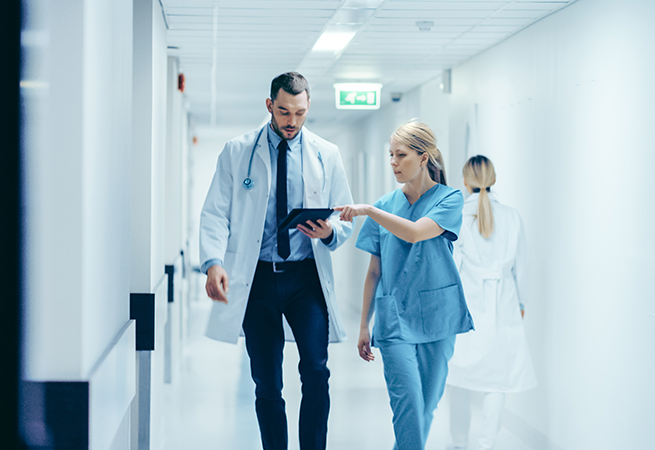 Resources & Reports
NHHA provides easy to use, reliable information that can be trusted to provide a clear context for hospital issues. This is beneficial to members, policymakers, and the public to showcase the value of New Hampshire hospitals and health systems to patients, communities and the state.
Our Partner Organizations
We understand that hospital issues are complex. We believe you shouldn't have to struggle alone, and that we can speak with one unified voice. We're stronger together.